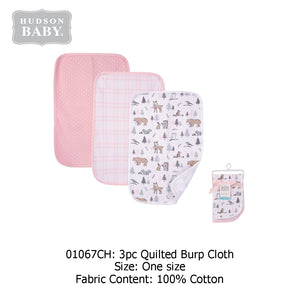 QUILTED BURP CLOTH (WINTER FOREST)
Regular price
Sale price
$12.90
---
3PCS QUILTED BURP CLOTH
BRAND: HUDSON BABY
Not only do burp cloths take the brunt of spit-up, but you can use them to wipe milk dribbles, sneezes or whatever comes your way. Because there's usually something coming your way. Stock up on our burp cloths that are soft, absorbent and hold up well after zillions of washes.
Features and Benefits

Gentle on your baby's skin – Using a regular towel or synthetic cloth can hurt your baby's skin. Once the baby spits up, you'll also want to wipe its face from any leftover drops. Doing this multiple times a day requires a cloth that won't irritate the skin.

We use premium combed cotton for all the surface that comes in contact with your baby's delicate skin.

Durable – as this is something that you'll be using every single day, multiple times. It needs to be washed after every spit up, so make sure you get the one that won't shrink in the washing machine and the colours won't fade away. Getting our durable burped cloth will save you a lot of money in a long run.
Super absorbent – the whole point of getting the burped cloths is to be as absorbent as possible. They should be thick and made out of absorbent material. That way you can be sure that the spit isn't just going to slide down your shoulder and back. Our burped cloths' 1st and 3rd layers are made of absorbent cotton 

whilst

 the middle layer is made of thick and soft comfortable fleece which can speed up the absorbing.

Generously sized at 11x17 inches – you want to look for a larger one so that most of your back is secured and spit-proof.
3 Piece Pack  – as you shouldn't reuse the same burped cloth before washing it,  you need to get the packaging of at least 3, so that you don't have to rush and wash it right away.
Modern & stylish cotton print fabric – our burped cloths feature appealing colours and adorable patterns that are chic and fashion-forward. You will be noticed wherever you take your baby when you pull out one of these adorable burped towels. Clean spit up in style!
Care Instructions
Wash before use

Machine wash warm with like colours
Use only non-chlorine bleach when needed
Tumble dry medium
Warm iron if needed